THE OWNERS OF THE PEOPLE'S CAFE – DEVOUT CATHOLICS – CLOSED THIS 1996 'CLUB JESUS' EXHIBITION, CURATED BY THE ARTWORK GALLERY,
LESS THAN A WEEK AFTER IT OPENED IN SEPTEMBER 1996, WHEN THEY READ THE HAND-OUT BELOW AND DISCOVERED WHAT IT WAS ALL ABOUT.
THIS IS THE FIRST TIME THAT THIS 'CLUB JESUS' MATERIAL HAS BEEN SHOWN SINCE THEN.     -Biron, June 20, 2019
SPECIAL THANKS TO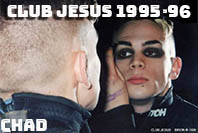 – CHAD SERRANO IN LA – A CLUB JESUS GO-GO DANCER – WHO HELPED IDENTIFY SOME OF THE PARTY-GOERS.